Restoring a 1950 Airzone Cub midget - Part Three
Patching up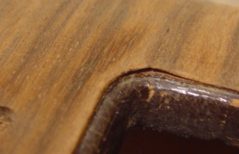 Some more preparation work is required before applying any finishes to the cabinet. The routed trimmings along with the feet of the cabinet needed filling with a spirit based wood filler of the right colour. It is considered the norm to just take some filler, pictured above and available from Bunnings (BBC Hardware), on your finger and simply rub it in to the rough parts of the surface. Then simply leave the set for the time recommended by the manufacturer of the filler so that it dries correctly before sanding smooth. It may well be necessary to do this twice and this was the case with this set. Be sure to sand thoroughly between applications otherwise you will end up applying so much that you won't be able to sand it efficiently.
Before painting the routed areas I gave the cabinet one final dusting with a slightly damp cloth to make sure there was no dust left on or in it. I then mixed some shellac flakes into a quantity of metho and stirred the mixture until the flakes had completely dissolved. The mixture was then ready to rub on with a clean cloth. By the time I'd finished I'd rubbed on about 10 coats of shellac and let each coat dry before applying the next. Being spirit-based, the drying time is quite short.
What is shellac made of?
There are two types of shellac. Shellac that occurs naturally comes from a resin-based secretion from an insect called a lac, originating in India, though is present in a couple of other countries. Man-made shellac was based on coal tar before the Industrial Revolution, though the Germans worked out ways of mass-producing shellac which was based on the original lac resin and machinery is used to make shellac flakes based on this even today. According to some, shellac comes from cockroach wings or beetle poop. None of these stories are true.
Time to paint the trimmings
This receiver has a handful of decorative trimmings which have been shaped using a router. I couldn't get a colour of brown that I was after and Mission Brown is too light for what I wanted to achieve here - so I bought a sample pot of that and another of black - both in gloss enamel for the smoothness enamel has. A mix of the brown and black gave me the dark brown colour I wanted, very close to the original. A coat of the mixed paint was applied to the required areas with a small art paintbrush. As the paint was enamel there was very little chance of seeing brush strokes after the paint had cured and this is what eventuated. The cabinet was then left to dry for 48 hours. I wanted the enamel to be quite hard before sanding it.
Two days later I sanded the enamel with the same wet and dry paper used to finish off the veneer with. I then cleaned the cabinet with a dry cloth to get rid of any dust and then applied a second and final coat of enamel. This coat dried over the next day or so into a hard, smooth and shiny surface which came to represent what had been applied originally.
It was then time to pay more attention to the veneer and a total of no less than 30 more coats of shellac were applied over the next week or so, giving each coat time to dry adequately. The cabinet was then given a final dusting with a clean dry rag and set aside whilst the four pieces of whitewood that form the speaker grille were sanded back, using the same method as per the veneer, and coated with several layers of shellac. When these were dry they were glued to the cabinet with the PVA wood glue used to repair the veneer.
Other chores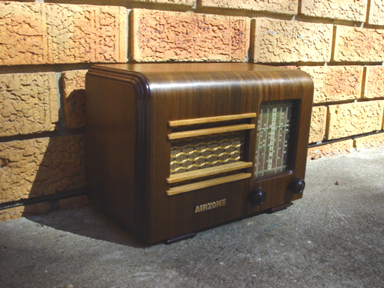 The set's name badge needed some work. It seems to be made of some sort of bronze alloy and there were some patches of green corrosion present, along with around 60 years of tarnish. The front of the badge was sanded with very fine wet and dry paper, then it was scrubbed quite hard with a nail brush and Solvol soap to get rid of the grime between the letters. To prevent any new tarnish developing I coated the badge in a layer of shellac before bolting it back onto the cabinet.
The two control knobs needed some treatment too. They were scrubbed with piping hot water and a nail brush with a few drops of dishwashing detergent. They soon scrubbed up quite well. The chassis, which was still clean from its restoration some months ago now, was then bolted back into the cabinet and the two knobs were fastened to their pot shafts. The radio provided some much needed aural therapy that afternoon - there is nothing quite like the sound that comes from a valve radio. It is pure, clean and powerful.
This radio now takes pride of place on a shelf next to the desk in my office at work. It spends a good portion of each day relaying Sydney radio station 2CH to my ears. I've connected the antenna wire to the building's MATV system which means I am getting the best possible aerial. As for the radio itself, it looks like a bought one.
About this set:
Brand: Airzone.
Bands: AM 531kHz - 1680kHz.
Speaker size: 100mm (4").
Valves: 6X5GT, 6A8G, EBF35, EL33A.
Cabinet: Plywood/Veneer.