Today I received an AWA Radiolette made in 1948 which is some sort of aqua or turquoise colour - a very rare situation indeed. It is a guess on my part but it is likely that there are only a handful of Radiolettes in this colour left in existance.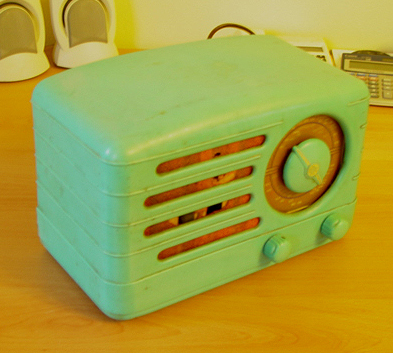 Apart from showing signs of many years of storage this receiver is in pretty good condition for a radio that is sixty years old.
I had to pay a very big price to scoop this set - $900.00 to be exact. The set was recently purchased off Ebay and the fact that I was locked in a bidding war with only nine seconds left in the auction shows that $900 is a fair price to pay for a Radiolette in such a rare colour.
I am very much looking forward to cleaning this set up and putting it on display with five other Radiolettes of the same model, one each of walnut, ivory, jade, cream and burgundy. I believe there is one last colour I need to get - ivory with orange marbling. These match well with the four
Empire State
Radiolettes in my collection. I am sure that many will agree that the AWA Radiolette, particularly the models built in the 1930's are the holy grail of any radio collection and are worth every cent paid for them.
In the new year I will post some photos of this set once it has received the once-over.
In the mean time I would like to wish all visitors to
Vintage Radio
a Merry Christmas and a safe and prosperous new year. I will be enjoying some time off work some of which will be spent working on the new
Vintage Radio
website, which will hopefully be launched at some time during the last weeks of February 2008.
http://vintage-radio.com.au/
‾‾‾‾‾‾‾‾‾‾‾‾‾‾‾‾‾‾‾‾‾‾‾‾‾‾‾‾‾‾‾‾‾‾‾‾‾‾‾‾‾‾‾‾‾‾‾‾‾‾‾‾‾‾‾‾‾‾‾‾‾‾‾‾‾‾‾‾
Brad.
A valve a day keeps the transistor away...