Currently delving into smd repairs as well (you have to today)

Not bad work providing one can see well. My eyes used to be quite good, especially with low light in people's roof spaces doing electrical work. I need glasses almost to see my belly button these days.

There was a recent discussion about SMD components and I commented on the frustrations with dealing with SMD PCBs and lead-free solder, which sets too quickly to be able to unsolder components without overheating the board and lifting the tiny tracks that are on them. One case in point was Ericsson/Aastra/MItel DECT phones which are used inside buildings for mobile communication.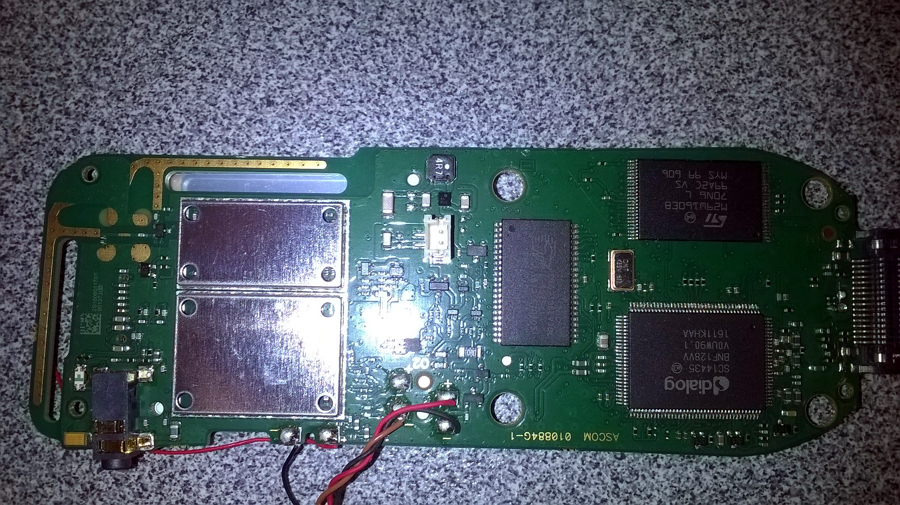 There's nothing really user-replaceable here but on the other side of the board there is the phone's screen and microphone, both of which are weak points on these phones. The microphone sits in a rubber sleeve which fits snuggly into the front half of the case - bad design, as it jars the microphone when the phone is dropped, and these get dropped with monotonous regularity. Sometimes to the point where the screen is also cracked.
Sometimes I can fix the microphone by removing the rubber sleeve and gluing the microphone to the board once it's been resoldered, with some normal tin/lead solder. The screen is connected with the familiar clear orange ribbon cable. Forget it. I've tried a dozen times to perfect the replacement of these but the result is just too ad-hoc for it to be reliable and in a hospital, we need phones to work all the time. I then have to programme and issue a replacement phone.
‾‾‾‾‾‾‾‾‾‾‾‾‾‾‾‾‾‾‾‾‾‾‾‾‾‾‾‾‾‾‾‾‾‾‾‾‾‾‾‾‾‾‾‾‾‾‾‾‾‾‾‾‾‾‾‾‾‾‾‾‾‾‾‾‾‾‾‾
A valve a day keeps the transistor away...